About
AYESHA SHAIKH
From humble beginnings to a media empire: the inspiring journey of Ayesha Shaikh, Pakistan's most successful female business magnate.
Allow me to acquaint you with a truly remarkable individual - Mrs. Ayesha Shaikh, a philanthropist of great renown from Pakistan. As Chairperson of a successful Media Group, she is a force to be reckoned with, but it is her work with the Aik Allah Kaafi Hay Trust that truly sets her apart.
As Director of this esteemed organization, Ayesha Shaikh is dedicated to enhancing basic amenities throughout Pakistan. The Trust's vision is to provide quality education, food, shelter, and healthcare services to those in need, and its mission to educate over 10 million children and build world-class schools throughout the country is an ambitious and noble one.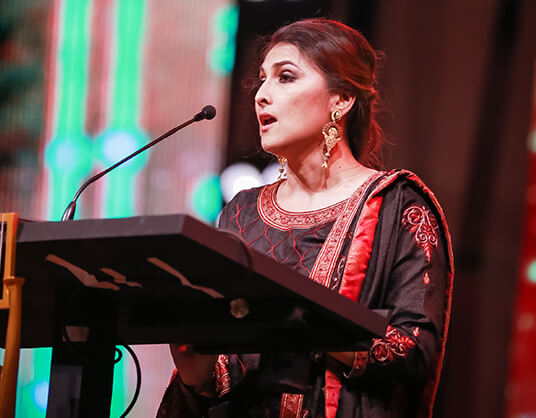 In addition to her work with the Trust, Ayesha Shaikh is also a Trustee of the Rabia Moon Trust, an organization that focuses on public healthcare, particularly in the area of neurological and psychiatric disorders. Working alongside a dedicated team of doctors, professionals, and individuals who share her passion for making a difference, Ayesha Shaikh is making a positive impact on the lives of countless individuals.
Her efforts have earned her widespread admiration and respect, and it is no wonder - her commitment to philanthropy is truly inspiring, and a shining example of the power of generosity and compassion.
Let me tell you more about the remarkable Mrs. Ayesha Shaikh - a woman of great influence and impact. Not only is she a celebrated philanthropist, but she is also the Chairperson of BOL, the world's largest media group with a staggering 680+ channels, profiles and pages in 16 different languages across the globe. With over 50 million subscribers and 10+ billion views, BOL's media infrastructure is unparalleled.
Despite her considerable success in the media industry, Ayesha Shaikh's true passion lies in contributing to the betterment of her fellow Pakistanis through self-sustaining socio-economic development programs. She firmly believes in the power of caring for one another and working together to create a brighter future for all. It is this unwavering commitment to her country and its people that makes her a true inspiration, and a beacon of hope for those who aspire to make a positive impact on the world.
EARLY LIFE, EDUCATION AND

INTERESTS

The captivating story of Mrs. Ayesha Shaikh began in the bustling city of Karachi, Pakistan, where she was born into a family of notable businessmen. Her father, Mahboob Husain Moon, was an influential figure in the country's business community, and undoubtedly played a crucial role in inspiring his daughter to pursue her own dreams of making a positive impact on the world.

After completing her MBA at Cardiff Business School, University of Wales, UK in 1998, Ayesha Shaikh embarked on an awe-inspiring journey of her own, dedicating her life to the betterment of her beloved country and its people. Her marriage to the esteemed Mr. Shoaib Ahmed Shaikh, a man of immense influence in the world of IT and media, and their three children, two daughters and a son, have given her the strength to achieve remarkable feats.

Ayesha Shaikh's passion for education and teaching is well-known, and she has spent five years as a distinguished visiting faculty member at the prestigious Institute of Business Administration (IBA). Her commitment to education goes beyond the classroom as she is a valued member of the board of trustees of the Karachi American School.

But Ayesha Shaikh's contributions to society are not limited to education. She is deeply committed to promoting swimming, a sport that has been neglected in Pakistan for far too long. Her support for both the country's women's and men's swimming associations has earned her recognition and respect among the international community, and her tireless work to promote mutual betterment has been truly inspiring. Her contributions to Pakistan and beyond are immeasurable, and she stands as a beacon of hope for those who strive to make a positive impact on the world.
AIK ALLAH KAFI HAI
Mrs. Ayesha Shaikh holds the esteemed position of director at the Aik Allah Kaafi Hai Trust. This illustrious organization is dedicated to uplifting the basic facilities throughout the nation, by providing quality education, essential amenities such as food and shelter, as well as proper healthcare and judicial services. Ayesha Shaikh, along with her esteemed husband, share a grand vision of making Pakistan the number one country in the world by the year 2036. Their dedication and commitment to this noble cause are unparalleled, and their efforts towards achieving this goal are a source of inspiration for all those who seek to make a difference.
AAKH SCHOOL FOR 10 MILLION CHILDREN
The AAKH Trust has a truly exceptional vision for the future of Pakistani education. Their goal is nothing short of inspiring: to educate over 10 million children and shape the very fabric of the country's youth by constructing the most elite, world-class schools imaginable. In these hallowed halls of learning, students will be provided with not just the best lodging, but with state-of-the-art technology and educational tools that will ensure their success. And as if that weren't enough, the schools will also offer a smorgasbord of indoor and outdoor facilities that would make any child's dreams come true - from horse riding to swimming, from basketball to indoor gaming areas, and so much more. With such a commitment to providing an unparalleled educational experience, it's no wonder that the Trust's efforts are already transforming the future of Pakistan.
EDUCATION CENTER
The AAKH Trust's latest endeavor is truly awe-inspiring - a school of exceptional quality that offers a co-educational, English-medium system of instruction to the young generation of Pakistan. It will be a place where young minds can flourish and develop, where the upcoming workforce of Pakistan will receive the skills and knowledge necessary to succeed in the modern world. This school will provide a learning experience that is unparalleled, from cutting-edge technology to world-class indoor and outdoor facilities. The AAKH Trust is committed to providing nothing less than the best, and this school is a testament to that dedication. With their unwavering vision and dedication, it is evident that this school will transform the educational landscape of Pakistan forever.
BOARDING FACILITY
Welcome to a school that takes care of its students in every possible way. With top-notch accommodation and exceptional amenities, you'll feel right at home as you embark on your educational journey. Our hostel rooms are spacious, comfortable, and equipped with all the modern facilities you could possibly need to make your stay as enjoyable as possible.
Our commitment to your wellbeing is evident in the delectable meals we offer. Enjoy three delicious meals and a snack every day, carefully crafted to fuel your mind and nourish your body. From the moment you step through our doors, you'll be greeted with warmth and hospitality that will make you feel right at home.
SPORTS & RECREATIONAL CENTRE
At our school, education is just the beginning. We believe that true growth comes from pursuing your passions and discovering new talents. That's why we offer a wide range of world-class facilities that cater to all kinds of interests, from sports to arts and beyond.
Our indoor and outdoor amenities are nothing short of Olympic standards, boasting state-of-the-art swimming pools, basketball courts, hockey grounds, and international-standard stadiums for sports like cricket and football. Whether you're an aspiring athlete or simply looking to stay active and healthy, our facilities are sure to impress.
While we were eager to open our doors and welcome students into our vibrant community, we faced unexpected hurdles in the form of a rival media group's controversy against Axact and Bol. But we persevered and stayed true to our commitment to providing a world-class education to our students. We're now thrilled to announce that our school will be opening in 2022, and we can't wait to see the amazing things our students will achieve.
RABIA MOON TRUST
Two decades ago, Ayesha Shaikh had a vision for a better future, one where everyone had access to quality healthcare, regardless of their financial situation. With this in mind, she established the Rabia Moon Trust, a group of dedicated doctors, professionals, and individuals who were passionate about improving the dismal condition of public healthcare in the country, especially in the fields of Neurology and Psychiatry.
The trust's goal was simple: to provide the best possible treatment, free of cost, to every deserving individual who walked through their doors. And after years of tireless effort, their dream finally became a reality in March of 2001. Through the boundless dedication of passionate doctors and the support of countless philanthropists, they were able to light the candles of hope for countless people across the nation.
Over the last twenty years, the institute has provided free treatments to more than 2 million outpatients, coming from all corners of Pakistan. This is a testament to the incredible impact that the trust has had on the lives of countless individuals, giving them a chance to live healthier and happier life. With the unwavering commitment of the trust's team of professionals, the future looks brighter than ever before for those who are in need of quality healthcare but cannot afford it.
WOMAN BEHIND THE MOST SUCCESSFUL MEDIA GROUP OF PAKISTAN
Worlds Largest Media Group BOL
Ayesha Shaikh is a true trailblazer in the world of media, leading the charge as Chairperson of the most successful Pakistani media group - BOL. Her vision and passion have propelled BOL Media Group to become the world's most successful private media group, with an impressive 680+ channels, profiles, and pages in 16 different languages worldwide.
With over 50 million subscribers and 10+ billion views, BOL Media Group is a force to be reckoned with, boasting the world's largest media infrastructure. But what truly sets them apart is their commitment to providing a platform for diverse voices and perspectives. BOL is the only media group in the world where two Presidents and one Prime Minister of Pakistan have had their own regular news shows - a testament to the trust and respect that BOL has earned from the highest levels of government.
But it's not just about politics - BOL is a truly global media group that brings together a wide range of voices from across the world. Interviews with ambassadors from various countries appear regularly on Bol News, providing a unique perspective on international affairs. And with the strategic decision to start transmissions in all major regional languages, as well as important international languages like English, Arabic, Chinese, Russian, Spanish, and French, BOL has truly established itself as a media powerhouse with a global reach.
BOL has also made a significant impact within Pakistan, providing a platform for the sitting chief ministers of every province to appear on a focused program, "Meray Soobay Ka Wazir-e-Aala," where they can discuss the ongoing developments and challenges in their provinces. By establishing 33+ top-notch broadcasting studios furnished with ultramodern technology, BOL has revolutionized Pakistan's media industry, paving the way for a brighter and more connected future.